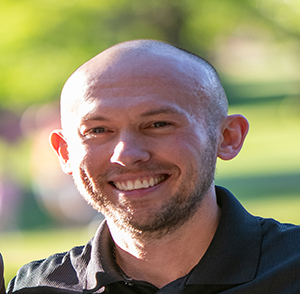 Age: 34
WIHOA since: 2010
Years Worked: 11
Tim Tate - President
Tim has been an official for WIHOA since 2010. He has served numerous positions on the board starting as a general board member in 2014, then a vice president in 2017, and he has been serving as the WIHOA president since 2020. Tim has been an assigner for various rinks since 2016, but he has taken a role focused on college and junior assignments this year.
Tim is one of our most experienced officials. He has gained a great amount of experience from working numerous local games. Beyond that, Tim has had the pleasure of representing WIHOA at multiple USA Hockey and ACHA regional and national tournaments.
Tim enjoys officiating because it provides him a way to stay involved in a sport that he has enjoyed his whole life. The officiating community is small, but very tight. Some of the most meaningful friendships in Tim's life have come from within the officiating community. No matter the game, no matter the crew, Tim enjoys the opportunity to develop relationships that he would not have had the chance to otherwise.
Tim loves serving on the WIHOA board because it allows him to give back to the game that has given him so much in his life. He ennjoys recruiting and mentoring new officials. He revels in the opportunity to influence how our association is viewed, striving to increase our structure, consistency, professionalism, and efficiency. He is excited to do his part in growing the Utah based officiating community and ensure that the product on the ice is one to be proud of at all levels.
Outside of hockey, Tim is a sales manager for a finalcial services company. He enjoys spending with his beautiful family, Erica and their three kids. Tim loves enjoying music and nearly every sporting event.
2020
WIHOA Vice Presidency
2017
WIHOA Board
2014
Assigner
ACHA and USPHL
Highlights
USA Hockey National/Regional Tournaments (Official)
ACHA National/Regional Tournaments (Official)