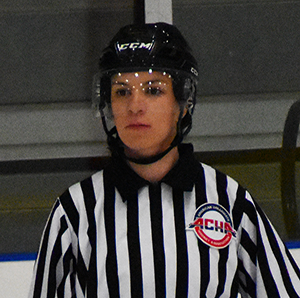 Age: 29
WIHOA Since: 2002
Years Active: 25
Sarah Henderson - General Board
Sarah Henderson is one of the big hitters of WIHOA. She has over 20 years of experience as an ice hockey official. She began officiating in Boston, MA because the university she was attending at the time did not have a womens ice hockey team. Sarah got her foot in the door as an official right as womens hockey began to really take off.
Sarah has an absolute mountain of experience that she has gained from working some of the highest levels of hockey. She has had the opportunity to attend various USA Hockey, NCAA, and IIHF officiating camps and tournaments. She has had the honor of working games around the globe; including the Asian Winter Games and the Women's World Championships.
Working in the upper echelon of hockey made Sarah want to give back to the sport. Upon returning to WIHOA, Sarah has quickly earned a position on the board. She is now the lead coordinator of the newly formed WIHOA mentor program where she hopes to teach new and old officials confidence, conflict resolution, and leadership through officiating. If you want to advance through officiating, she is the person you want to know.
2021
WIHOA Board
2020
Highlights
Asian Winter Games (Official)
Womens World Championships (Official)