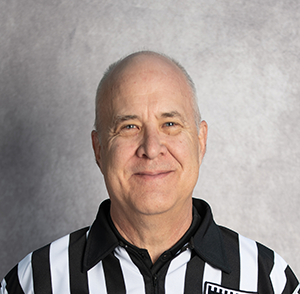 Age: 59
WIHOA Since: 2009
Years Active: 12
DeOrr Wight - General Board
DeOrr Wight has been involved in hockey as a player, coach, and as an official. He did not discover the joy of being an official until he reached the age of 47. However, do not let his age fool you, he is always ready to mix it up with all the kids on the ice.
DeOrr has achieved two high school championships in the state of Utah. The first as the head coach of the Bountiful Braves in 1988. The second as an assistant coach of the Viewmont Vikings in 2014. As a player, DeOrr had the distinct honor of being invited to participate in the 1976 and 1977 Olympic Regional Development Camp in Squaw Valley, California.
Working as an official has given Deorr the opportunity to stay active in the sport that he has dedicated so much time to. He loves working with the board to advance WIHOA into a modern association that conducts itself as a professional organization .
Outside of the rink, DeOrr owns and opperates two companies. The first is an office furniture and supply company and the second is a shipping company.
2020
Highlights
2014 High School Championship (Asst. Coach) (Viewmont)
1988 2A High School Championship (Coach) (Bountiful)
1976/77 Olympic Regional Development Camp Participant (Player)